Network
Our network focuses on religious individuals and organizations working to form unity and ease conflict without the use of scapegoats as the key to establishing a real and lasting peace.
Priest, theologian, and author James Alison provides a resource for discovering anew the total nonviolence of God and what that means for how we read the Bible and interpret the Cross.
James earned his doctorate in theology from the Jesuit Faculty in Belo Horizonte, Brazil. He is the author of Knowing Jesus (London: SPCK 1992,8; Springfield: Templegate 1993); Raising Abel New York: Crossroad 1996 (2nd edition, updated, London: SPCK 2010) The Joy of Being Wrong (Crossroad 1998); Faith beyond resentment: fragments catholic and gay (London: Darton Longman & Todd 2001; Crossroad 2001) On being liked (DLT 2003 and Crossroad 2004). Undergoing God (DLT (London) and Continuum (New York) 2006) and Broken Hearts and New Creations: intimations of a great reversal (DLT (London) and Continuum (New York) 2010.

The organization advocates for human rights, social justice and inclusion in the United States and around the world by inculcating a culture rooted in human rights through public education, advocacy, and the arts.
"I follow the Way of Love, and where Love's caravan takes its path, there is my religion, my faith."
To fight Islamophobia, people need to know Muslim values. A fuller understanding of how the Muslim Ummah has varied over the course of history and geographical locations, and how it continues to evolve today, is the best antidote.
One of the beauties of Islam is that a central authority does not tells Muslims what to think or how to practice their faith. Rather, Muslims are enjoined by the Holy Qur'an, the highest authority on the practice of Islam, to seek knowledge and to study. When there is ikhtilaf, or a difference of opinion among scholars, this is actually seen as a rahma, or mercy, from Allah (SWT) that encourages the exercise of critical thinking.
Sharing Sacred Spaces uses a community-building structure focusing on the vehicles of architecture and space to bring people together in a compelling, non-threatening way.
We use space as a community-building tool because space includes both built forms and their contexts. Every space contains within it some kind of belief system, some kind of value system, and some kind of communal story. Space is also physical, and one responds to being invited in, received, and welcomed with hospitality. This is a visceral phenomenon that generates lasting emotional memories of belonging.
We include "sacred" in our name because sacred means ironically both "full of presence" and "forbidden." When we enter the world of another, we enter into different territory, and herein lies the possibility to open our eyes and see things anew. We get to see and hear beauty—sometimes sorrow—and this opens a much fuller understanding of what it is to be human. There is no other program—whether its diversity and inclusion, interfaith, intercultural—that utilizes the compelling vehicle of architecture to bring people together and through this process of discovery and deepened understanding.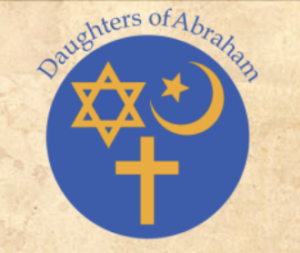 The Daughters of Abraham Women's Interfaith Book Group was created in response to the events of September 11, 2001 by and for women of the three Abrahamic faiths, Judaism, Christianity and Islam. Members read books that deal with our religions and the practice and experience of living as a religious person. Books can be of various genres: biography, fiction, memoirs, history, poetry, etc. The books encourage talk about faith experiences and learn about other religions. In doing we come to know one another as members of a unique community of friends.
Daughters of Abraham believe that the only way to confront discrimination, bigotry and xenophobia is through learning about the religions, traditions and history of others then appreciating and valuing the uniqueness of every member of our society.
Pastor Adam is pastor to believers, and to doubters, to unfaithful Christians, and faithful atheists.
He wants people to know that God loves them. And according to Jesus, the true God desires mercy and *not* sacrifice (Matthew 9 and 12).
A non-profit, volunteer, interfaith organization established in 1983 to empower those who minister and serve others in creating new possibilities for themselves and for their communities. Offerings include: Making a Difference: A Course for Those who Minister, initiatives designed to empower community and religious leaders already working to ensure peace for future generations, community empowerment programs, and the School for Leadership.
In our increasingly divided world, Corrymeela supports thousands of people from different backgrounds to live well together. To deliver our vision we focus on 4 key areas: repairing relationships, nurturing cohesive leadership, building movements, and being sustainable.
Street Psalms is a community in mission that frees leaders from all walks of life to create cities of peace for all people. We gather and equip gifted grassroots leaders from diverse backgrounds, giving ample space for those of us who are marginalized misfits and overlooked one-offs. From such delightfully quirky stock we are formed as missional communities profoundly centered and mutually supported in our commitment to serve among those most vulnerable in society.