**SPOILER ALERT: If you haven't watched/read Star Wars, The Hunger Games trilogy, and the Harry Potter series, this post discusses important plot points in each of these works of fiction to explore mimetic theory. You have been warned!**
Violence is a lie.
It lies by convincing us that it can be wielded for good.
Our world puts faith in violence, conflating the catharsis of defeating adversaries with divine power. And the stories that shape our culture – movies, books, and shows that captivate our hearts and minds – are often born from and reinforce our culture's veneration of violence. Many of us are suckers for epic tales of good versus evil with heart-pounding battle scenes and stirring music. Watching our heroes triumph can bolster our faith in the goodness of violence when wielded by the right people. These stories tempt us to believe that, like our heroes, we can become our fullest selves in the vanquishing of our enemies.
Nothing could be further from the truth.
Violence doesn't distinguish us from our enemies; it drowns us in hostility.
Violent cycles often culminate in mimetic doubling. This is the process by which rivalry reduces all desires to a single, mutual focus on destroying the enemy and rivals lose their individuality in the symmetry of fighting.  Insult for insult, shot for shot, blast for blast, fights reduce fighters to mirror images of one another. Moral distinctions vanish in the fog of violence.
In our zeal to destroy those we hate we can lose all we love. We risk losing our very selves.
Fortunately, some of the most iconic stories of our time, while still playing on the myth of righteous violence, subtly subvert that myth. Three examples, Star Wars, The Hunger Games, and Harry Potter, appear to justify violence to defeat evil. Yet they also, imperfectly but undeniably, expose mimetic doubling and undermine the logic of violence.
I'll explore mimetic doubling in each of these modern classics. Critiquing the stories we tell about violence is urgent. The worlds we imagine in our stories shape the world in which we must live.
Critiquing the stories we tell about violence is urgent. The worlds we imagine in our stories shape the world in which we must live.
Star Wars: Not Fighting What We Hate; Saving What We Love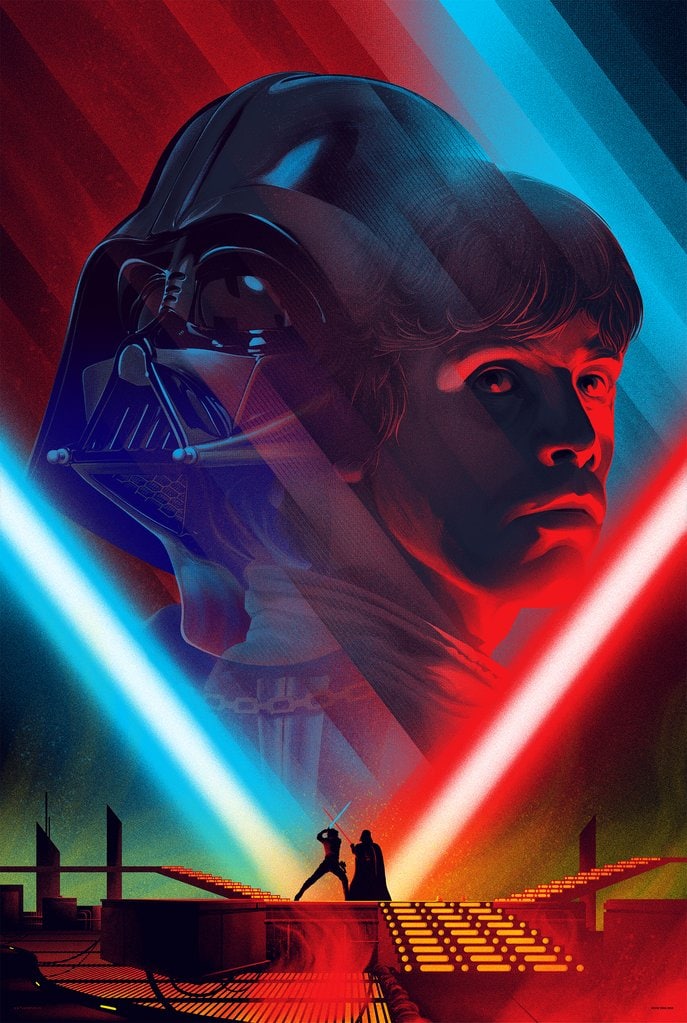 The music gets me every time. I can hear the swelling crescendo now, urging me to believe in the Force! It's so easy to get caught up in the thrill of righteous violence and not question the inherent goodness of the rebels or utter evil of the Empire.
But the line between the light and dark is not absolute. There's shadow in light and illumination in darkness. Heroes can be corrupted; villains can be redeemed.
A quote from The Last Jedi encapsulates Star Wars' profound wisdom: "We're going to win this war not by fighting what we hate, but by saving what we love." Furthermore, "winning" is defined not by defeating enemies, but healing souls and restoring harmony.
This is made abundantly clear in Return of the Jedi, where Luke nearly loses himself to the dark side. As Luke's rages against the Empire and strikes at Vader, the Emperor, empowered by hate, feeds off his violence. The Emperor is the embodiment of the Satanic force of self-righteousness violence that eats our souls from the inside-out.
In the end, Luke doesn't give in to hate. He puts down his weapon, risking his life to save his soul…and his father's. His love reaches Vader, who redeems himself by saving his son…and killing the Emperor.
Yes, there is still a nod to redemptive violence; the message is inconsistent. But in Luke's case, mimetic doubling is thwarted. Further, Vader's – Anakin's – mimetic doubling is undone. He is restored to his true self through the only force that can unravel the soul-killing power of enmity: love.
But even when we see the transformative power of love, we are continually susceptible to becoming our own enemies through the temptation to violence. In The Last Jedi, Luke recalls his attempts to train his nephew, Ben Solo, in the ways of the Jedi. But when Luke perceives that Ben is being corrupted by the Dark Side, he recoils in fear and nearly kills him. Though Luke is unable to go through with the strike, Ben awakens to find his uncle standing over him, lightsaber raised. In his horror, Ben is pushed into the Dark Side, becoming Kylo Ren. But it's Luke who, allowing his fear of the dark to overpower the light within him, ultimately destroys all he has worked for. He becomes his own enemy in that instant. And he must learn to forgive himself in order to, once again, use the Force for good.
Luke ultimately surrenders his life to the Force to protect his friends without harming his nephew. He leaves room for Kylo Ren's redemption as he helps his friends escape, thus fulfilling his own redemption in the process. The Force is most powerful when it is used not for violence, but connection, protection, and healing.
The redemption of major villains ultimately raises the question: What about the countless lives lost in the great interstellar battles? Surely, if Vader and Kylo Ren can be redeemed, then storm troopers, guards, and all those unnamed creatures whom the Rebel fighters kill for the cause of "peace," with seemingly no consequences for their souls, are also worth saving?
Star Wars only alludes to the mimetic doubling between the Empire and Rebellion, reveling in the myth of righteous violence on a cosmic scale and refuting it when it is distilled into individuals. But both the Empire and the Rebellion fall victim the lie of violence, that lives are expendable in the cause of maintaining "order" or "peace." Distinctions are diminished in this deception, and the creators of Star Wars never fully grasp their greatest lesson…
The "war" waged on the outside mirrors the war within our own souls; indeed, the latter controls the former. When we give in to fear, we lash out in violence, and in destroying our enemies ultimately destroy ourselves. But when we let love transform the hate within us, we can heal others and ourselves. And just as losing ourselves to hate has dire cosmic consequences, so finding ourselves in love can ultimately restore the galaxy.
Take A Breath with Us
Our weekly newsletter creates a space to take a breath. Once we slow down, we can see the way desire, imitation, and conflict operate in our lives and in the world, and begin to create peace. In addition to the newsletter, you will receive the free "Unlearn the Bible" ebook when you subscribe.
The Hunger Games: Two Sides of the Same Coin
If Star Wars is inconsistent in its subversion of mimetic doubling, The Hunger Games trilogy exposes mimetic doubling in all its complexity.
Brief recap: In Panem, twelve districts are kept in poverty by a central Capitol. To enforce "order," the Capitol requires a boy and girl "tribute" from each district, ages 12 to 18, be randomly selected to fight to the death in an annual "Hunger Games." Katniss volunteers as tribute to save her sister, Prim, and is forced to become a killer to "win." Eventually, she takes on the Capitol in a full-scale war led by the underground District 13.
The Capitol depicts the tributes as mimetic monstrosities. Their humanity is meant to be lost in the violence. Yet the tributes cannot be considered true mimetic doubles of each other as they are enslaved into violence. Rather, the people of the Capitol who measure themselves against those they oppress unconsciously become mimetic doubles not of the tributes themselves, but of the monsters they believe the tributes to be.
Nevertheless, Katniss, to a degree, falls victim to mimetic doubling in the war against the Capitol. Her desire to protect her loved ones is overshadowed by a desire to kill the one who made her a killer, Panem President Snow.
Yet, Katniss becomes painfully disillusioned with the all-consuming nature of violence. Her eyes are opened to the forces of mimetic doubling around and within her. Resistance leader Alma Coin proves just as ruthless as President Snow. Katniss is horrified when her friend justifies sacrificing civilians by proclaiming he's using the exact same playbook as the Capitol. Finally, the fog of war obscures exactly which side drops bombs killing many Capitol children… and Prim.
Katniss, forced to become a killer to save her sister… loses her anyway. Loses her to cycles of vengeance and sacrifice for the sake of expediency. Loses her just as the war is "won" by those just as power-hungry as those they fought. Moral distinction, trust, Katniss's sense of who she is… all go up in smoke.
The devastating truth is that sometimes nothing we do can save those we love. Violence is a thief that takes all we love and threatens all we are.
Katniss cannot save everyone she loves, but love saves Katniss. Love protects her in the Games. Love slowly builds solidarity and trust among those who once lived in isolation and enmity, creating a better world for Katniss's children. And love helps Katniss hold onto her soul.
Katniss regains herself from mimetic doubling as she acknowledges the futility of violence and recognizes the humanity even in those she once considered enemies. She can't always see her own worth through the lies of violence… but those of us learning with and through her how to see violence itself as the enemy of a broken but redeemable humanity can.
Harry Potter: Death Is The Rival Voldemort Can't Escape
Harry Potter epitomizes both submission to and subversion of mimetic doubling all at once.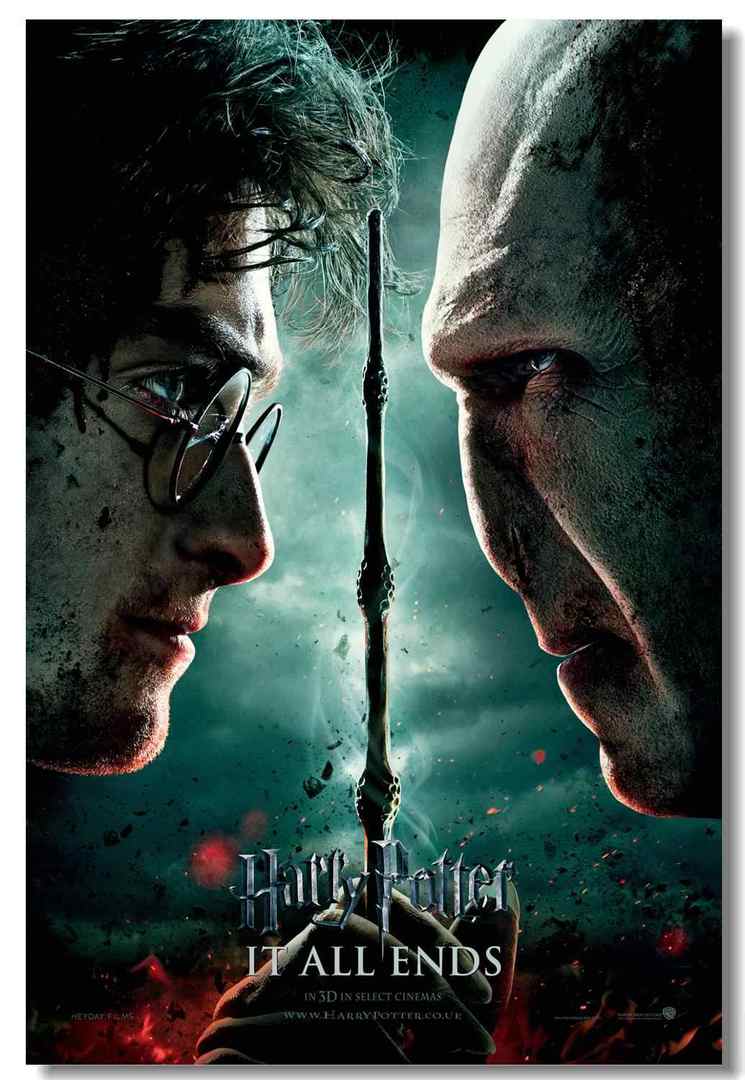 Dreading mortality as he grows up orphaned, young Tom Riddle (later known as Voldemort) terrorizes to fight the terror within him. Upon discovering his magic, he is consumed with conceit. His obsession isn't magical supremacy, though he scapegoats muggle-borns in rejection of his own muggle ancestry to rally support. He rather defines himself over and against all others. And he kills with impunity to make himself invincible to his greatest enemy, the only thing that could rob him of the one thing he cares about, death.
And Harry could have been his double.
Voldemort marks Harry as his "equal" from the beginning. He creates his own deadly enemy by orphaning and attempting to kill Harry, the one prophesied with the ability to vanquish him.
Visualize discovering that you have unimagined power and that a rival you never knew is determined to kill you all at once. It would have been so easy for Harry to become just like Voldemort, consumed with power-hunger and fear. Thrust into a world that already venerated him simply for his survival, the temptation for Harry to arrogance and glory could have been great.
But over and over again, love saves Harry.
Love protects Harry in his infancy from Voldemort's killing curse. Love binds Harry to friends and family in the Wizarding World and heals his heart from a childhood of abuse and neglect. And love finally keeps Harry from becoming the killer Voldemort nearly doomed him to become.
Harry saves his soul by focusing more on the people he loves than the enemy he hates. Love for his friends frees Harry's soul from the parasite of Voldemort by empowering him to do what Voldemort never could, sacrifice his own life. In his self-sacrifice, he becomes empowered to protect his friends without violence. When Harry returns from "death," Voldemort has no power over him or anyone he loves.
Harry keeps his soul intact by disarming rather than killing Voldemort. It's Voldemort's own killing curse that rebounds and kills him. In his enmity, Voldemort becomes that which he most fears – dead! The greatest mimetic doubling is not between Harry and Voldemort, but between Voldemort and death!
By willingly going to death in love, Harry subverts rivalry with Voldemort and death altogether.
More Than Just Fiction
Whether our stories reinforce our culture's veneration of violence or help us question that violence depends on how we approach them. So, as we read, watch, and listen, let's try to recognize whether the characters are engaged in mimetic doubling, becoming the enemies they oppose, by asking some questions. Are they more invested in fighting what they hate, or saving what they love? Will defeating the "bad guy" fundamentally solve the underlying problems (which is not to say those who do wrong should not be held accountable, but to assess the situation beyond a figurehead to blame)? Can our heroes see the humanity in their opponents?
More importantly, how are our stories helping us ask these questions in our own lives?